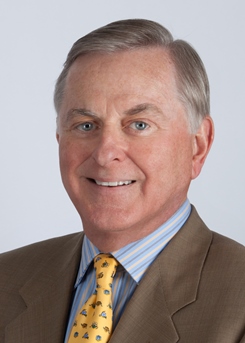 01/15/2019
JONESBORO – Dr. B. D. Tiner, an Arkansas State University alumnus who lives in San Antonio, Texas, is establishing an endowed scholarship program at his alma mater.
He is setting up the Hite and Glenda Tiner Memorial Scholarship Fund in recognition of his parents.
Earnings from the endowment fund eventually will provide scholarships for outstanding students graduating from Pocahontas High School who plan to attend A-State and major in pre-professional programs in medicine, dentistry or pharmacy; physical therapy; or nursing.  Tiner is a native of Pocahontas.
"With this scholarship, deserving students from Pocahontas High School will be given the opportunity at Arkansas State that my brother and I had.  The pre-professional education I received at A-State set me on a course for a great and rewarding career in the highly competitive specialty of oral and maxillofacial surgery.  I have achieved goals that I would have never dreamed possible and it all began at Arkansas State University," Tiner said.
Following his initial $50,000 gift for the endowment fund, he plans to add $10,000 per year over the next five years to bring the total to $100,000, at which point the endowment earnings will begin funding a scholarship each year.
"Dr. Tiner's gift is so crucial for our pre-professional health care students" stated Dr. Susan Hanrahan, dean of the College of Nursing and Health Professions.  "Most of these students will do an undergraduate degree followed by a graduate program in their specialty area, and will incur quite a bit of college debt.  This award will certainly alleviate some of the cost, especially at the undergraduate level.  We are very thrilled to have this very substantial endowment available."
Tiner's long-term plans include an estate gift that will boost the award to a full tuition scholarship.
"My parents, Hite and Glenda Tiner, inspired me in so many ways to do my best in life," he continued.  "Neither of my parents had the opportunity to attend college, but they recognized the value and importance of education.  From the day my brother and I were born, my parents sacrificed everything so we could receive the education they were never afforded.  I am pleased to establish this scholarship to honor their commitment to education and the sacrifices they made."
After completing a bachelor's degree in zoology at A-State, Tiner earned his Doctor of Dental Surgery degree at the University of Tennessee College of Dentistry and a Doctor of Medicine degree at the University of Texas Medical School at San Antonio.
Among his numerous professional achievements, Tiner is a Diplomate of the American Board of Oral and Maxillofacial Surgery and a Fellow in the American College of Surgeons.  He also is a Fellow in the American Association of Oral and Maxillofacial Surgeons, for which he currently serves as vice-president.  Additionally, Dr. Tiner is a past president of the American Board of Oral and Maxillofacial Surgery, the Southwest Society of Oral and Maxillofacial Surgery and the Texas Society of Oral and Maxillofacial Surgery.
Dr. Tiner's private practice at Alamo Maxillofacial Surgical Associates encompasses all areas of oral and maxillofacial surgery including the management of obstructive sleep apnea, the correction of jaw deformities (orthognathic surgery), dental implants and pathology of the maxillofacial region.  He has authored or co-authored numerous scientific publications and book chapters.  In addition, he previously served as a full-time faculty member for eight years in the Department of Oral and Maxillofacial Surgery and the Department of Surgery at the University of Texas Health Science Center in San Antonio.
Tiner served in the United States Navy for 25 years and retired in 2000 as a Captain.  He and his wife Brenda (A-State Class of 1973) are the parents of two adult children, Lauren and Colby.
For more information on giving to Arkansas State in support of its mission to education leaders, enhance intellectual growth, and enrich lives, one may visit the website, AState.edu/give, or call the Office of University Advancement, (870) 972-3940.
                                                           # # #
Original article source: http://www.astate.edu/news/alumnus-b-d-tiner-honors-parents-with-scholarship-endowment | Article may or may not reflect the views of KLEK 102.5 FM or The Voice of Arkansas Minority Advocacy Council