10/04/2018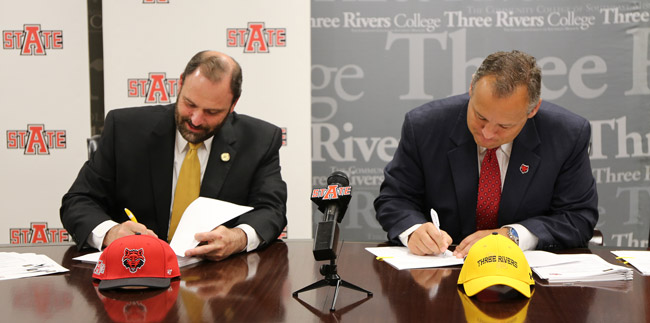 President Payne and Chancellor Damphousse sign agreements
POPLAR BLUFF, Mo. – Arkansas State University Chancellor Kelly Damphousse joined with Three Rivers College President Wesley A. Payne to sign official articulation agreements for 21 academic programs.
The ceremony conducted at Three Rivers' Tinnin Fine Arts Center is the latest in A-State's campaign to improve transfer relationships with regional two-year institutions.
"We're thrilled this new partnership will create a smoother transition for our graduates looking to pursue a bachelor's degree at A-State," Payne said. "It's very important to us that our students get credit for the hard work they've already done, and not have any unnecessary delays in earning their four-year degree."
"We want to make sure everyone in the Upper Delta region knows that Arkansas State is here for you," Damphousse responded.  "The border between our states should not be a barrier to learning, and by coming to Poplar Bluff, I hope the graduates of Three Rivers know they are welcome in Jonesboro."
This semester, Damphousse began a series of signing ceremonies to signify the new relationships between Arkansas State and other institutions of higher learning.
"There is a strong tie between the Bootheel region of Missouri and Jonesboro," Damphousse said.  "Many students come to A-State from their high schools in this area, but for some, family or other factors are initially in the way.  For others, time after completing an associate's degree to work is necessary before returning to college.  And for some, their work or life experience reveals the need to go on for a four-year degree.  These articulation agreements show the pathway is ready and open."
Arkansas State's Transfer Task Force has worked throughout the summer and into the early fall on creation of new articulation agreements with dozens of institutions in the state and region.
"As I said last week, this doesn't end just with ASU System members, and today, we're not just stopping at the state borders," Damphousse said.
The Arkansas State degree programs signing articulation agreements with Three Rivers include accounting, agriculture, disaster preparedness and emergency management, business administration, business economics, business technology, communication studies, computer and information technology, criminology, economics, English, global supply chain management, history, international business, management, organizational supervision, political science, psychology, sociology and strategic communication.
To learn more about transferring to Arkansas State, one may go to AState.edu/Transfer.
# # #
Original article source: http://www.astate.edu/news/a-state-signs-transfer-pact-with-three-rivers-college | Article may or may not reflect the views of KLEK 102.5 FM or The Voice of Arkansas Minority Advocacy Council