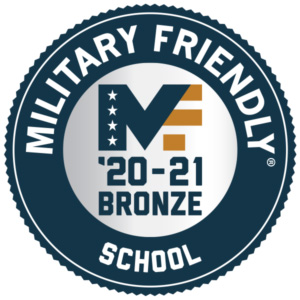 02/17/2020
JONESBORO – Arkansas State University has been designated as a Military Friendly® School with a bronze rating for 2020-21. The Military Friendly schools list, in its 11th year, sets the standard for higher education institutions to provide the best opportunities for veterans and their spouses.
A-State, who has been on the list nine times, is among the institutions earning the Military Friendly® School designation after being evaluated using both public data sources and responses from a proprietary survey. More than 1,000 schools participated in the 2020-21 survey with 695 earning the designation.
The 2020-21 Military Friendly® Schools list will be published in the May issue of G.I. Jobs magazine and can be found at militaryfriendly.com.
"Our ability to apply a clear, consistent standard to colleges creates a competitive atmosphere that encourages colleges to invest in programs to provide educational outcomes that are better for the military community as a whole," stated Josh Rosen, Military Friendly's national director. "Thank you to Arkansas State University for your commitment to the military community. We are excited to celebrate this designation with Arkansas State and we have some really big things planned in 2020 to share this information with the nation."
Methodology, criteria, and weightings were determined by Viqtory with input from the Military Friendly® Advisory Council of independent leaders in the higher education and military recruitment community.
Through the Office of Multicultural Affairs at A-State, the Military and Veteran Student Success program presents opportunities for military and veteran students to be active on campus. The main goal is to assist veterans with campus life and student engagement. The office assists military affiliated and veteran students with identifying on-campus resources and departments that offer services to veterans. To better focus its core mission, A-State recently shortened the Beck PRIDE Center for America's Wounded Veterans to the Beck Center for Veterans.
Arkansas State assists with numerous educational opportunities to veterans through the GI Bill and other programs. In addition, the Beck Center for Veterans, which is part of the new Veteran Success Center, provides combat-wounded veterans with first class educational programs and services at A-State. These include, but are not limited to, resources to access the higher education experience, resources for counseling, personal rehabilitation, advocacy and financial assistance to support these individuals to achieve their post-military service goals.
"The Beck Center for Veterans utilizes services from programs on campus such as counseling and social work," said Lynda Nash, director of the center. "There is an opportunity for veterans to utilize VA work study funds to supplement their income while a student. The Beck Center for Veterans staff works hard to develop programs and groups to meet the needs of our student veterans."
The Military Friendly® Schools list is created each year based on extensive research using public data sources for more than 8,800 schools nationwide, input from student veterans and responses to the proprietary, data-driven Military Friendly® Schools survey from participating institutions.
Final ratings were determined by combining the institution's survey scores with the assessment of the institution's ability to meet thresholds for student retention, graduation, job placement, loan repayment, persistence (degree advancement or transfer) and loan default rates for all students and, specifically, for student veterans.
Founded in 2001, Viqtory is a service-disabled, veteran-owned small business (SDVOSB) that connects the military community to civilian employment, educational and entrepreneurial opportunities through its G.I. Jobs® and Military Friendly® brands.
Original article source: http://www.astate.edu/news/a-state-receives-10th-military-friendly-status-designation | Article may or may not reflect the views of KLEK 102.5 FM or The Voice of Arkansas Minority Advocacy Council