08/21/2020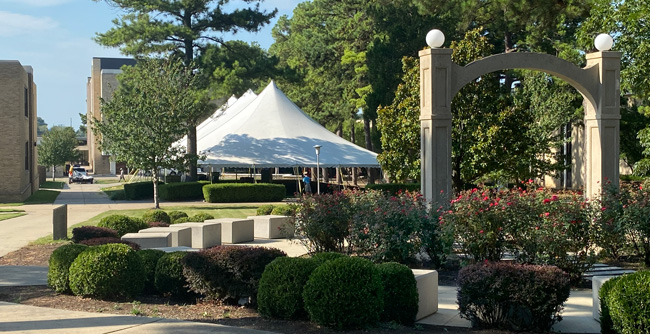 A dining tent has been erected on campus just south of Memorial Arch
JONESBORO – With reduced seating capacity at Acansa Dining Hall and the Food Court in the Reng Student Union because of the ongoing pandemic, Arkansas State University and its service provider Sodexo have established several new food and dining locations across campus.
Everyone is expected to follow physical distancing and face-covering requirements because of the continuing need to minimize risk of exposure. Acansa has been set up to manage the flow of people, minimizing personal contact.
To widen service across campus, Sodexo initially will be operating with touchless payment, with students using their iOS or Android apps, with their regular swipe IDs, or with ATM/credit cards.
In addition to Acansa and the Food Court on the main floor of the Reng Student Union, students, faculty and staff will have access to several new dining options on campus:
— Howl on Wheels – located adjacent to the Chi Omega Fountain west of the Union. 10 a.m.-2 p.m., Monday-Friday.
— Sushi & Deli – located on the second floor of the Reng Student Union in the former location of the C-Store. 10 a.m.-7 p.m., Monday-Friday.
— Dining Tent – "Acansa to go," with an emphasis on Southern comfort food, is between the Dean B. Ellis Library and the Mathematics & Computer Science Building. 10 a.m.-2 p.m., Monday-Friday.
— NorthPark Quads – A grab-and-go convenience store, located in the Commons area. 10 a.m.-2 p.m., and 4 p.m.-midnight, Monday through Friday; 6 p.m.-midnight Sundays.
— Food Carts – Howlin' House of Fry, located at the amphitheater north of Lab Sciences West, and Wolf Shack Grill and Packed Nachos, located in the Living-Learning Community Courtyard. 10 a.m.-2 p.m., Monday-Friday.
— Grub Hub Pickup – Located at the east entrance on the lower level of the Reng Student Union.
The new locations are in addition to the regular dining options found on campus, which include: Acansa Dining Hall and Food Court, Reng Student Union; Dean B. Ellis Library, second floor lobby; Einstein Bros. Bagels, Humanities & Social Sciences Building; and Starbucks, second floor, Reng Student Union.
Payment at all locations may be made by Flex, credit/debit, and Express dollars. Additionally, all Block meal plans may be utilized at the food truck and cart locations. The dining tent, along with NorthPark Quads grab-and-go, will accept Block and Access plans during meal periods.
# # #
Original article source: http://www.astate.edu/news/a-state-opens-new-dining-options-across-campus | Article may or may not reflect the views of KLEK 102.5 FM or The Voice of Arkansas Minority Advocacy Council