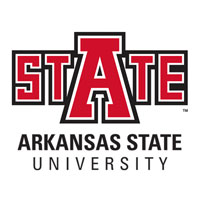 01/13/2020
JONESBORO – Arkansas State University has become the presenting sponsor of the 2020 Arkansas Science Festival (ASF), Provost and Executive Vice Chancellor for Academic Affairs Alan Utter announced this week.
"At Arkansas State, we know the value of encouraging young minds to become engaged in science, and I'm looking forward to increasing our commitment to the Arkansas Science Festival," Utter said.
The 2020 Arkansas Science Festival is set for the fourth week of October this year.
Founded by Arkansas State faculty four years ago, the Arkansas Science Festival takes on special significance as it will be a part of the 2020 STEM Fest at the Little Rock Air Force Base on Friday, Oct. 23.
"I am proud to see our research faculty continue to inspire the young people in our state to engage in science," stated Chancellor Kelly R. Damphousse. "I attended the STEM Fest the last time it was on the LRAFB and it was exciting to see our A-State students, faculty, and staff engage with their enthusiastic guests."
Two years ago, STEM Fest drew 20,000 students from across the state, and more are expected for this year's event.
Utter added, "We want to do our part to inspire the next generation of STEM professionals. It begins with supporting the Arkansas Science Festival in its outreach projects like the STEM Fest."
STEM Fest is a collaborative project among the ASF, Little Rock AFB, the state of Arkansas Department of Education's Division of Elementary and Secondary Education, and the more than 100 participating organizations across the region.
Along with additional financial support for the ASF, the Division of Academic Affairs at A-State will support more participation from academic departments at this fall's event.
To learn more about the ASF, go to ArkansasScienceFestival.org.
# # #
Original article source: http://www.astate.edu/news/a-state-is-presenting-sponsor-of-arkansas-science-festival | Article may or may not reflect the views of KLEK 102.5 FM or The Voice of Arkansas Minority Advocacy Council