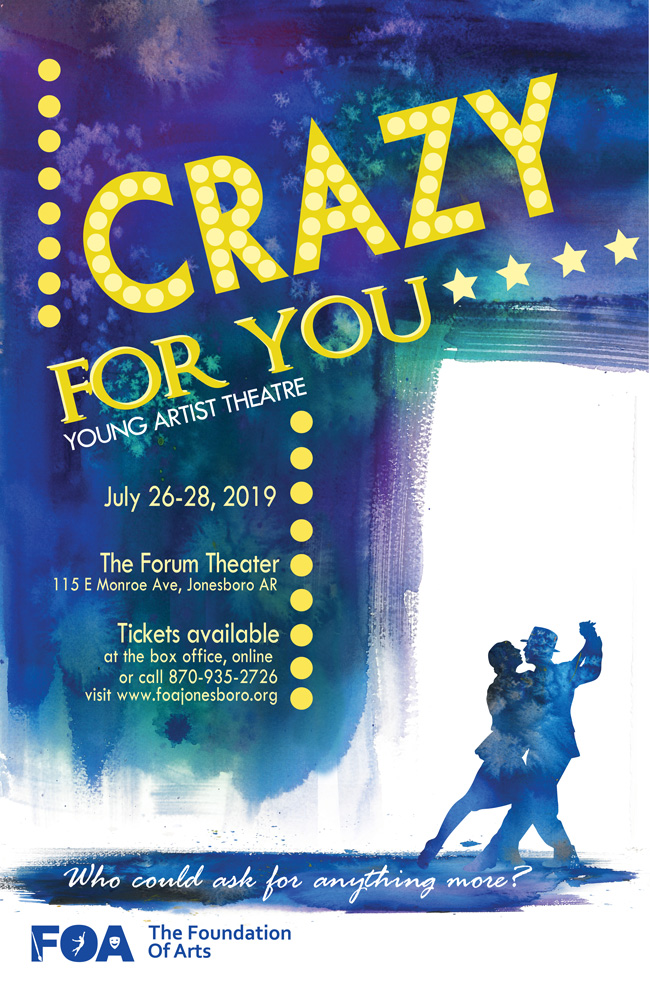 06/28/2019
JONESBORO – Arkansas State University and The Foundation of Arts announced today a joint effort to enhance summer theatre programming for young people over the next two summers.
Both organizations have a history of offering theatre programs during the summer months. The Foundation of Arts offers a number of camps and classes each summer, as well as their Young Artist Theatre program, while Arkansas State has offered theatre productions created for young audiences.
Through this new joint arrangement, these programs will operate through The Foundation of Arts with support from Arkansas State University students, faculty, and staff.
"Access to high quality arts programming is crucial to our community's vitality," said Marc Williams, interim chair of the Department of Theatre at A-State. "We believe this arrangement strengthens the university's connection to the community through the arts," he continued.
"We have noticed in theatre students an increased interest in building careers in community engaged practice and in theatre education. These students will now have an opportunity to go into our community to gain practical experience in the work," said Williams.
Kristi Pulliam, executive director of The Foundation of Arts, underscored the value of the arrangement.
"The collaboration between The Foundation of Arts and Arkansas State University will benefit the community by elevating The FOA's Young Artist Theatre camps to a multi-level educational program," she said. "The partnership is beneficial to everyone: the students in the camp as they engage with A-State students, A-State students who will be learning by experience as teachers and helpers in community arts, and the community at large who will enjoy an even more enriching experience as patrons of 'Crazy for You' and 'Broadway Orphans.' "
"For our students, this new arrangement is an improvement over the summer children's theatre productions we've offered in the past," Williams added. "Our students really need to go off campus to get experience working in other theatre environments. Our actors, designers and technicians are having success finding summer professional development and job opportunities in venues across the country, and now we have a good place to send our students who want a different kind of training experience that is closer to home."
The Foundation of Arts Young Artist Theatre production of "Crazy for You" will be Wednesday through Friday, July 26-28, featuring ages 12 to 17. Performances of "Broadway Orphans," featuring ages 8 to 12, are Friday and Saturday, Aug. 2-3. Both productions will be at The Forum, 115 East Monroe.
# # #
Original article source: http://www.astate.edu/news/a-state-and-foundation-of-arts-announce-summer-program | Article may or may not reflect the views of KLEK 102.5 FM or The Voice of Arkansas Minority Advocacy Council